The Fairey Swordfish in Profile
It was big, slow - unbelievably slow if you were an attacking German or Italian pilot, and a holdover from another age, yet the Fairey Swordfish was to serve until after the end of WWII in one capacity or another. Famed for its torpedo attacks on Taranto and the Bismarck, the 'Stringbag' also served as a bomber, rocket and radar equipped strike aircraft. Not bad for something that looked like it belong 20 years earlier in the Kaiser's war.
Entering service in the late-1930s, the Swordfish was to carry many different schemes during its service career, some of which are shown here. The earliest Swordfish were finished in aluminum dope on all fabric surfaces and cerrux grey on all metal surfaces. Additional markings were a coloured fuselage band to indicate assigned ship and a large number to show the individual aircraft's number within the Fleet Air Arm.

Fairey Swordfish Mk.I L9781
No.820 Sqn FAA
HMS Ark Royal
1939
Aircraft 650 shows the Ark Royal's colours of a blue/red/blue band, aircraft belonging to No.814 Sqn carried the same colours, but in a chevron pattern. Also note that type A roundels are carried - these feature a bright red and blue, not the more familiar dark colours of wartime usage. One more point to be noted by model builders is that the torpedo is a practice one as denoted by its red warhead - 'live' ones carried no additional colours.

Fairey Swordfish Mk.I L2732
No.821 Sqn FAA
HMS Courageous
1938
Another prewar Swordfish is a/c 685 of No.821 Sqn assigned to HMS Courageous. This aircraft is finished as above with the addition of the fleet number repeated under the upper wing.

Fairey Swordfish Mk.I K5959
No.823 Sqn FAA
HMS Glorious
1937-38
The Tamiya kit contains markings for another of Glorious' aircraft, note the different fin markings between K5972/804 (the Tamiya option), and K5959/809. The former has a black fin with white bars, while the latter is in the pattern shown above. The fleet number is in black with a thin silver outline, upper fuselage decking and cowl are black.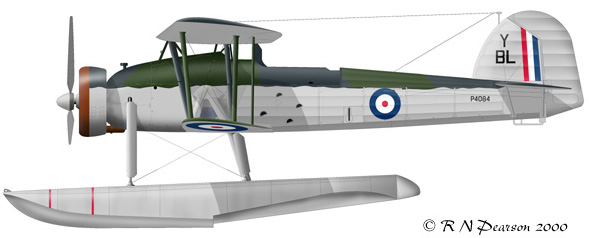 Fairey Swordfish Mk.I P4084
No.765 Sqn FAA
1940
With the coming of war, the FAA's aircraft were quickly done up in camouflage colours. Initially they were in Dark Sea Grey and Extra Dark Slate Grey (a greenish colour to you and I), with the upper surfaces of the lower wings being in Dark Sea Grey and Light Slate Grey to provide shadow compensation from the upper wing. The undersurfaces are in Sky Grey (NOT Sky)

Fairey Swordfish Mk.I K8422
No.820 Sqn FAA
1940
An interesting mix of roundels are visible on K8422, the fuselage roundel is now of type A1, upperwing are type B, while those on the bottom wing are type A.

Fairey Swordfish Mk.I V4373
No.815 Sqn FAA
February 1942
By 1942 lower surfaces and fuselage side were now in Sky, and roundels were of type A1 on the fuselage and type B1 on the upper wings. No roundels were carried under the lower wing.

Fairey Swordfish Mk.II W5970
No.815 Sqn FAA
April 1942
Another aircraft from No.815 Sqn is shown here with the undersurfaces painted 'night' (black) as part of a plan to attack the French port of Lorient. Roundels are as above. Note ROYAL NAVY and serial are now white.

Fairey Swordfish Mk.II W5858
N0.837 Sqn FAA
HMS Dasher
1942
As well as being carried by the large Fleet carriers, the Swordfish was also used onboard the smaller escort carriers that helped to close the mid-ocean gap that had previously been devoid of air cover.. That seen here is from the carrier HMS Dasher

Fairey Swordfish Mk.II NF243
No.816 Sqn FAA
July 1944
The next big change was to go with a white fuselage and undersurfaces, uppersurfaces were still in standard camouflage. NF243 carries D-Day stripes with a thin white outline to the outside white stripes on both fuselage and wings surfaces where they border white. Roundels are now type C1 on the fuselage and type B on upperwings, none on lower wing.

Fairey Swordfish Mk.II NE932
No.819 Sqn FAA
Mid-1944
Overall 'Night' with white invasion stripes added to fuselage and wings. ROYAL NAVY and serial are in red. Roundels as above.

Fairey Swordfish Mk.III NR944
RCNAS Dartmouth, Nova Scotia, Canada
1946-47
Postwar the Swordfish survived in various capacities, that seen here is a radar-equipped Mk.III of the Royal Canadian Navy. Once again in overall aluminum with a black trimmed cowl. On radar equipped aircraft, the operator's cockpit was partially covered over to prevent glare on the scope screen.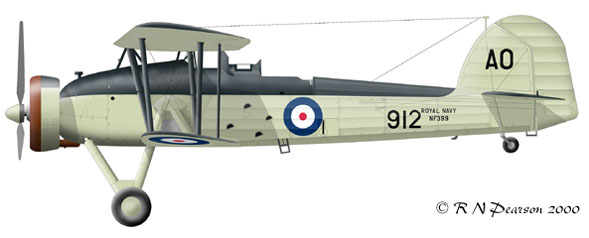 Fairey Swordfish Mk.III NF933
Arbroath NAS
1948
Seen here in Extra Dark Sea Gray and Sky finish is Mk.III NF933. Roundels in all positions are of type A
---
References:
Scale Aircraft Modeling: April 1984: Swordfish feature by Ian Huntley and Alan Hall with illustrations by Mike Weeks

Correspondence with Chris Banyai-Riepl, Will Riepl, Robert Karr, Dave Fletcher