| | |
| --- | --- |
| HMS DIANTHUS - A Short History | |
INTRODUCTION: WHY DIANTHUS
As a youngster, the sea and a life upon it heavily influenced me. Years of exposure to black and white WWII movies such as "The Cruel Sea" and sea stories featuring my grandfather, as well as an awareness of the naval tradition of my home city - Plymouth - I joined the Navy as a stoker in August 1981.
A few years ago, now settled with a family, I decided I needed a hobby. Naturally gravitating towards things nautical, I discovered the world of radio controlled boating, joining the model boat club in Plymouth. Before long I noticed that a few club members had built models from a box kit, by Revell, of a Flower Class Corvette and had converted them for use with radio control. Remembering the stories about my grandfather and that he had served in this class of ship, aboard HMS DIANTHUS, as Coxswain, (A. Watts, Petty Officer J96933) I decided that I was going to build a vessel of this type, and it would be his ship I built.
In the navy of today every ship in the same class has variations, the navy of sixty years ago was no different. Wanting the model to be as accurate as possible a visit to the city library for a little research and even a picture of the ship was called for. "This won't take long" I thought, but to my astonishment all I could initially find was DIANTHUS' pennant number, where she was built and that she had sunk U379 in August 1942. Many visits and much cross-referencing later I had a better picture, but the lack of information made me determined to find out more. My inquires expanded and after contacting five different naval and maritime museums, as well as a detailed search of the Internet I was hardly any further ahead. I was amazed and disgusted that so little information was available about DIANTHUS, it seemed to me that she had been forgotten about. (I gathered a near complete history of U379 from the Internet in minutes.)
Finally I was put in contact with the Flower Class Corvettes Association., who in turn put me in touch with the last few surviving crewmembers. It is from these still proud men that I have pieced together a brief history of DIANTHUS. I owe them a great gratitude of thanks for setting down their memories and emptying their photo albums and then sending them to a complete stranger on trust.
Although by no means 100% complete, so far as I can ascertain with limited time and resources, all the events I have recorded are. Perhaps this will help keep the name of DIANTHUS alive in some small way. Eventually I hope to pay a visit to The Imperial War Museum and to find the address of an archive where perhaps ships logs and records are kept. I have looked at The Public Records Office web sight, which needs further investigating, but does not seem promising. Any of these potential sources may reveal new information, if so perhaps a more complete version of the ships exploits may be known.
Below are the names of the last surviving crewmembers of DIANTHUS, whose help and input I gratefully acknowledge. A few served with my grandfather and remembered him with fondness for which I thank them, but I would like to thank them all for without their help this little piece of history would have been forgotten.
| | | |
| --- | --- | --- |
| Mr B. J. Bowick | 1st Lieutenant | July 1942- December 1944 |
| Mr Gerard Pink | Lieutenant | April 1941 |
| Mr T. K. Alcock | Navigating Officer | February 1941- October 1943 |
| Mr M. Newington | Depth Charge Officer | March 1942 - |
| Mr Alwyn Rees | Stoker | February 1941 - January 1942 |
| Mr Charles J. Welch | Radio Mechanic. | |
| Mr J. Lawson | Radar Operator | Early 1943 - 1945 |
My main sources of information have been from the gentlemen listed above, and have been able to cross reference much of it with publications such as wartime Navy Lists, editorial pieces from Ships Monthly and Navy International, as well as from books such as Warship Perspectives - The Flower Class Corvette by John Lambert, and The Allied Convoy System 1939-1945 Its Defence and Organisation by Arnold Hague.
H.M.S. DIANTHUS REVISED (LONG FOCSLE) SPECIFICATIONS
DISPLACEMENT standard - 960 tons / full load 1180 tons.
DIMENSIONS. Length 205 feet (over all).
..........................Beam 33 feet.
DRAUGHT (fwd) 11ft 10 in.
...................(Aft) 15ft 7 in.
MACHINERY Two cylindrical (scotch) boilers, supplying a 4-cylinder, vertical triple expansion steam reciprocating engine, driving a single shaft, developing 2750 horsepower. Total weight of machinery was in the order of 375 tons.
SPEED 16 knots at 185 R.P.M.
OIL FUEL 200 tons.
ENDURANCE 3450 - 4000 nautical miles at 12 knots. 2630 nautical miles at full speed.
COMPLIMENT Between 85 and 109.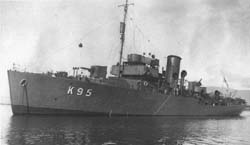 HMS Dianthus as built
H.M.S. DIANTHUS was among the batch of 26 Corvettes ordered by the Admiralty on 25th July 1939. She was allocated job number J 1050 and constructed by Robb Shipbuilders located at Leith near Edinburgh.
Although not the longest corvette build time she still took some 16 months and 17 days to build. This was probably due to major design modifications to the hull as development of the class was being under taken by those corvettes and crews already at sea. As the ship neared completion the crew started to join, with her first commanding officer Lieutenant Commander Bridgman RNR (ex Blue Funnel Line) joining on the 20th January 1941. With a full build cost price of £49,800 she was finally completed on 17th March 1941.


Commissioning cap tally
After successful contractor and sea trials had been completed on the River Forth, DIANTHUS was commissioned, with the issuing of cap tallies (never to be tied) and accepted into the fleet. It is said that around the time of commissioning someone looked up DIANTHUS in a seed catalogue, found that it was a member of the carnation family and that it described the plant as "Small but hardy" which seeming appropriate was adopted as the ships motto. The ship was then sent to the Isle of Mull, in sight of Tobermory, where the crew was then put through its paces, being worked up and trained for a war at sea.
At the beginning of May DIANTHUS moved to Liverpool joining D13 Flotilla and began her escort duties escorting convoys across the Atlantic from Liverpool to St. Johns, Newfoundland. Her first convoy OB 318 was a stark introduction to the work that she would carry out right up until the Normandy invasion in 1944. Sailing from Liverpool on 2nd May five merchantmen where torpedoed in less than 48 hours between the 7th and 9th the convoy being given the order to disperse on the 10th May. Again she was put to the test almost immediately having to scatter a convoy when the German Battleship Bismark closed to within 80 miles as it broke out of the Denmark Straits into the North Atlantic. (One of Bismark's main tasks, had she been successful, was to seek and destroy the Atlantic convoys thus cutting Britainís supply chain). The convoy was rounded up the next day and proceeded on to its destination. The Bismark was sunk on 27th May.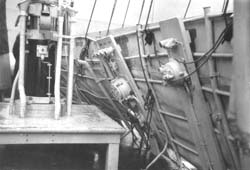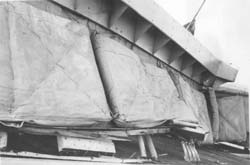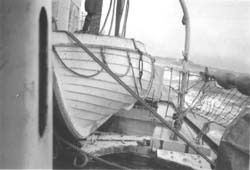 Storm damge to bridge and 16' dinghy
In the autumn of 1941 DIANTHUS transferred to the Canadian Escort Group C.5. Based at Londonderry in the U.K. this group was part of the Escort force used for Atlantic convoys. When proceeding westbound C.5 would join the convoy off The Mull of Kintyre, passing through the Minches, turning to port and then proceeding across the North Atlantic to America via Newfoundland. The course of these convoys was never direct as constant alterations had to be made (on instruction from Liverpool) to avoid contact with the German submarine Wolf Packs. These course changes meant that at times the convoys would steam close to both Iceland and Greenland and as a result experience the stormiest of weather especially during the winter months.
At the beginning of October after experiencing two days of such weather (hurricane force storms) DIANTHUS had to retire from her escort duties because of severe damage. It was assumed that it would be a British port to which they would return as the ship was due a maintenance period and major modification to the bridge. The many Scousers on board prayed that it would be Liverpool. It was however to the U.S. Navy Yard at Charleston, South Carolina for around six weeks, at which the ship docked and where the repairs were to take place. Such a possibility had not even occurred to the crew, as America was not directly involved in the war.
In the following weeks many friendships were formed, with invitations and hospitality from the locals (especially during Thanksgiving) sometimes overwhelming the ships company. It was policy to give Corvette crews the maximum amount of shore leave possible on either side of the Atlantic, so there is little doubt that DIANTHUS ships company made the most of the excesses that were available. So it was, on Sunday December 7th 1941 that R.N. and U.S.N. officers along with their wives and girlfriends, while enjoying a social drink at the naval base club learned of the news of the Japanese attack at Pearl Harbor. The mood of the party changed immediately from utter disbelief to a realisation that the Americans were no longer just our friends, they were now our allies. The refit completed early and DIANTHUS put to sea, rejoining her escort group, picking up her duties where she left off two months previous.
DIANTHUS made yet another unscheduled return to Charleston in January 1942. Once again she was suffering from storm damage acquired in the North Atlantic. It also provided a chance for some of the maintenance done during the previous year to be made good, as well as renewing old friendships.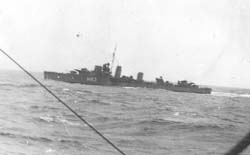 HMCS Assiniboine
The voyage of convoy SC 94 during August 1942 was to propel the name of DIANTHUS and her crew into the limelight. Thirty-three merchantmen led by the Canadian destroyer HMCS Assiniboine and escorted by the corvettes DIANTHUS, Battleford (RCN), Chilliwack (RCN), Orillia (RCN), Primrose (RN) and Nasturtiam (RN) sailed for Britain on 31st July 1942.
The convoy was located by a U593 on the 5th August, which torpedoed and sank the Dutch freighter "Spar" while the U-boats of the 'Steinbrinck' group closed in. At 1851Hrs of 6th August HMCS Assiniboine sighted U210 on the surface. Assiniboine fired a salvo at the submarine, which then crash dived. DIANTHUS joined the hunt for the dived U-boat but Assiniboine located it with her Asdic. The submarine was forced to the surface by depth charges from Assiniboine, which then engaged the destroyer with close range fire. During the action U210ís commanding officer was killed by a direct hit to the conning tower, and the destroyer was hit under the bridge. Assiniboine then rammed the U-boat twice, U210 finally sinking at 1914 Hrs, 700miles SSE of Cape Farewell. A total of 38 survivors from U210 were rescued, 10 of which where picked up by DIANTHUS. Assiniboine with severe hull damage had to return to the port of Halifax for repairs.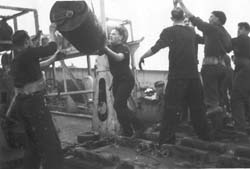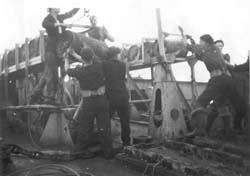 Depth charge crews at work
By the 8th August the U-boats had formed their forage line on the convoy and the attacks began. On the afternoon the 8th August, U379 sank the American freighter SS Kaimoku, carrying US Army stores, and damaging the British freighter Anneberg, carrying pulp, so badly that she had to be sunk later by DIANTHUS. At the same time the British freighters Kelso carrying 2000 tons of ammunition, and Trehata carrying 3000tons of steel and 3000 tons of foodstuffs as well as the Greek freighter Mount Kasson carrying 9700 tons of general stores were sunk by U176.
That evening Lieutenant Newington closed up on the bridge for the first watch, the ship zigzagging at the head of the convoy. At 2046 DIANTHUS' coxswain sighted a U-boat conning tower 3000 yards away. Almost immediately a rainsquall blotted the target out. DIANTHUS increased speed and closed the targets last position. When the rain lifted two U-boats where found to be on the surface. Engaging them both once in range the submarines took evasive action. One sped off at full speed toward the horizon (the U-boats were about 1.5 knots faster on the surface than the corvettes) the other, U379, dived. After an Asdic hunt that lasted for almost three hours, the contact was reacquired and two patterns of depth charges dropped. Finally damaged by the depth charges, U379 was forced to resurface. Immediately she opened fire with her deck gun, and Lt Cdr Bridgman, mindful of the damage received to Assiniboine's bridge, rammed the submarine. Further depth charges were dropped, and the boat having been rammed a further four more times, finally sank at 0006 Hrs ESE of Cape Farewell (57°11"N, 30°57"W).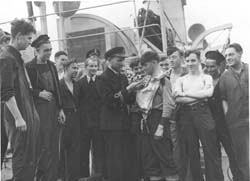 LT Bowick and crew examine submarine escape gear
Five survivors were picked up by DIANTHUS and not having the time to lower a ships boat (being damaged and stationary she was a sitting target for an opportunist submarine) a Carley float with rations, water and flares was put into the water in case any more men escaped from the sinking submarine.
While this was happening Radio Mechanic Welch was below with another chap guarding the German prisoners from the Greek survivors who were sharpening their knives and wanting to get at the Germans. Ramming the submarine severely damaged the hull of DIANTHUS. The asdic dome had been torn away and water was being shipped inboard.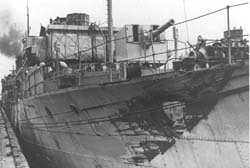 Damage to bow caused by U-379
Before it sank the submarine had reared up on her stern and the conning tower struck the ship causing a large gash in the starboard side of the forward mess deck. German prisoners were used to transfer what heavy equipment they could to the stern of the ship, while the crew was shoring up down below, as well as in the lower sleeping space, using hammocks and baulks of timber.
DIANTHUS took up a position in the anti-submarine screen and manoeuvred appropriately. She was used to pick up survivors from other sunken merchantmen. Unfortunately the convoy was harassed by the U-boats for a few days further. On the 9th August U176 struck again sinking the ëRadchurchí a British freighter carrying iron ore. On the 10th August U660 got busy and sank the British freighters Cape Race loaded with 3979 tons of lumber and 1040 tons of steel, and Empire Reindeer carrying government and general stores. She also damaged the British and Greek freighters 'Oregon' and 'Condylis'carrying 8107 tons of steel and 6924 tons of grain and trucks respectively, U438 sinking them when they became stragglers. During one of these rescue operations signalman Sam Bennett dived of the bridge into the fuel oil covered water and helped pull several struggling merchant seamen to the scrambling nets. For this act he later received the D.S.C..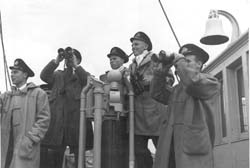 Victorious homecoming - Lt Hickman, Lt Bowick, Lt Alcock, Lt/Cdr Brideman, Lt Newington
As the convoy neared the English coast and the relative safety provided by Coastal Command the U-boats broke of their attack. The merchantmen then dispersed to their own ports of destination. DIANTHUS proceeded to Liverpool arriving on 13th August,a most welcome landfall and to a hero's return, being greeted by none other than Admiral Sir Percy Noble, the then C. in C. Western Approaches. He remarked on what a motley looking lot they were and congratulated them on a job well done, saying that there would be a spot of leave for everyone.
The crew did indeed look a little rough. Many still wore sea duty overalls - the rest of their kit in the forward part of the ship having been destroyed by seawater.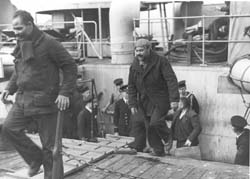 Merchant seaman disembark
The rationing of food, water and the even more cramped living conditions of the previous five days had taken a toll. With a normal ships company of 90, this number had swollen to 214 being made up of around 15 prisoners and 109 merchant seamen. DIANTHUS docked down for repairs and updating, an evolution, which took something in the order of two months. During this time however the crew was kept occupied with home leave and the public relations machine, organising visits to their adopted school and town.