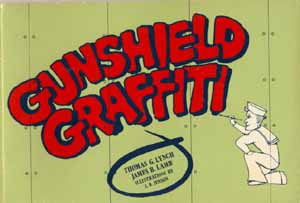 Gunshield Graffiti
by Thomas G Lynch, James B Lamb & LB JEnsen
Nimbus Publishing, 1984
Softbound 144 pages
Last year while looking through Canada's Flowers I noticed mention of a future volume on the colourful artwork carried on the gunshields of RCN corvettes. A quick question to SMML provided me with the title, and a visit to ABEBOOKS.COM soon had this volume on its way to me.
Upon arrival I was not disappointed. There are approximately 120 different designs provided. In cases where the original photograph was not of sufficient quality for reproduction, L B Jensen has done b/w drawings. This volume is the source for much of my gunshield artwork.
It is mentioned in the book that the Maritime Command Museum in Halifax, NS has the complete collection (where they still exisit). If anyone is planning on visiting there, please get in touch with me and try to get photos of as many as possible.