| | |
| --- | --- |
| Details Sets for the Matchbox/Revell Flower Class Corvette: David J. Parkins' 'Great Little Ships' and Sirmar Sets Described | |
Introduction
The re-release of Matchbox's 1/72 Flower Class Corvette kit by Revell-Germany has renewed interest in this class of vessel. Matchbox's initial release of the model in the late 1970s was universally viewed as impressive in scale but quite basic in detail. However a dedicated enthusiast with considerable scratch-building skills, references and time could produce a stunning model using the kit contents as a base.
Not long after the initial release of this Matchbox kit, two detail sets were released that would save the modeler a great deal of this work. The first was by SIRMAR, a British maker who is best know for a wide range of GRP hulls of modern Royal Navy vessels. SIRMAR produce semi-kits that include a GRP hull and a large number of resin, white metal and photoetch detail sets. The modeler must make up the decks and basic superstructure boxes from styrene sheet using plans that frequently came from other companies such as JECOBIN. The second set was a wonderful collection of cast metal and photoetch parts by D.J. PARKINS of Wales. This set was available for some time and then withdrawn for 'upgrading'.
And upgrade they did! The subject of this review is the new D.J. PARKINS set under the 'Great Little Ships' banner and the popular SIRMAR set that has been available for about 10 years. A listing of the contents of each set can be found on their respective websites, so I will not bother to outline them here. The question most modelers would want to know is "which one should I get?"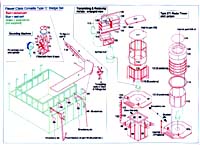 Typical plans - Bridge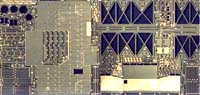 Bridge PE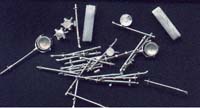 Bridge details


Main Gun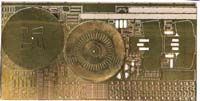 Main Gun


Hedgehog Launcher and Bombs


Depth Charge Racks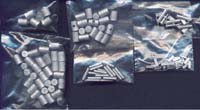 Depth Charge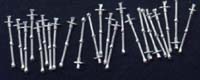 Stanchions
The sets offered in this range cover just about every visible external fitting on a Flower Class Corvette, and it has been done with the fidelity and attention to detail that even the most critical and pedantic purist would find difficult to fault. I have had the opportunity to examine most of the sets in this range and photos of the bridge, hedgehog, main gun, and stanchions accompany the article to give you a good idea of what the parts actually look like.
Each fitting set is produced in etched brass and white metal parts that usually number in the hundreds (frequently several hundred!) and come with full assembly instructions. Colour photos of the actual ship's fitting are frequently included as a painting guide. The assembly instructions are explicit exploded diagrams showing the placement of every part. These diagrams are supported by a written description of the building process with notes outlining potential areas of difficulty. For those of you who don't like to read, the diagrams are done in colour with different colours used to denote parts of different media. The full colour photographs included in some sets are clear and crisp. I suppose the only thing missing from these sets is a decal sheet for all of the stenciling found on the fittings.
Photoetch Sheets
The brass photoetch sheets are extensive. Every brace, attachment plate, and support you can think of is included as separate parts. Of particular note is that the raised detail is etched on BOTH sides of the sheets as appropriate, so when you fold up a part, you will have detail on both sides. A great deal of detail has been etched onto the parts, including all nuts and bolts. If the bolt heads were too small to etch reliably, the backside of the part has a small etched marking that you use to place a divot to gently punch a dimple to represent the bolt head.
Different gauges of brass are used as appropriate. I would strongly suggest that anyone using these sets invest in a folding tool, such as the 'Hold and Fold'.
The choice of parts included on these sheets is generally well chosen and suited for this medium. There are, however, a few exceptions. For example, in one set you are provided with etched blocks with the lines and falls etched together as a single piece. To get scale thickness, you are instructed to sandwich three parts together – the two outer pieces have the detail, with the third inner piece as a blank spacer. The pulleys are well done, but despite the fact that the etched 'rope' has rope-like texture etched on to the line, it remains flat and unconvincing. Rope is round so you will need to cut away the etched rope and replace this with real line (try thread run through beeswax). It may be simpler to replace the entire block and tackle assembly with a proper cast metal block (e.g., from Bluejacket Shipcrafters) and reeve with thread. Indeed, Parkins' could have simply supplied a cast block.
Another questionable used of etched brass are the etched 'studs' provided to fit inside the individually cast white metal chain links. Once again, studs are round in shape so the etched part looks wrong and the whole idea of fitting individually etched studs is quite inefficient as well. A little better design would have cast the individual chain links with a central stud. You would have to simply split the ends of each link to add the next link in the chain and squeeze shut. Bluejacket Shipcrafters sells such chain (which works very well) but unfortunately, not in 1/72 scale.
White Metal Parts
Each set comes with plenty of these. The casting of these parts is superb and bursting with detail. The parts show no pitting, no flash, and barely visible mould lines that will be easy to clean off with a scrape of a knife blade. Round parts are cast round, not oval due to mould distortion. A feature of the range is the three sets of stanchions that have cleanly cast holes cast for the wires. The stanchions come with all clevises and fittings moulded on.
Summary
SIRMAR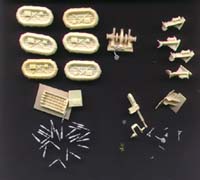 Carley floats, winch, 2pdr, Hedgehog, Depth charge launchers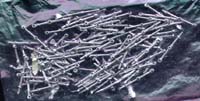 Stanchions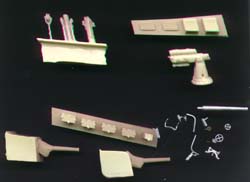 4" gun, signal lamps


20mm Oerlikon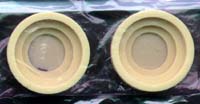 20mm Oerlikon base

Twin Lewis guns, Anchor
With these sets everything that is separate is separate. They are for the person who must have everything. A great deal of research and thought was put into the sets, which in a word are 'fantastic' They are expensive, but their scope, the quality of the etching, and crispness of the cast parts explains their cost. It is likely that if you get one set, you will be compelled to get all the others. If you only use one set, the crispness of the detail will be so evident that the remaining parts of your model will pale by comparison.
Assembly will certainly be time consuming. I cannot comment on their ease of assembly or to the extent to the fit of the parts because I have not had the opportunity to assemble any of the sets. The jury is still out on that score.
The Sirmar sets have been in continuous production for quite some time. The sets that I am reporting on here have been in my possession for about six years, but they do not appear to have changed appreciably since then. The sets are made of white-metal and cream coloured resin. The odd photoetch part comes with some sets (e.g., gun sights). Most sets do not come with instructions of any sort and of the sets that do, they are rough exploded sketches with no colour information.
The best way to describe these sets is to think of state-of-the-art resin and white metal castings of about 10 years ago. Many of the resin parts are cast quite crisply and carry sharp detail, but between sets the quality is a little inconsistent. In a few of the sets, the detail is very soft, and on the odd part the casting is incomplete. There is a lot of flash due to mould wear and moulding blocks to clean off. The white metal parts fare much better, they being quite useable. They carry a bit of flash but nothing too serious. SIRMAR pioneered the production of white-metal stanchions with ready cast holes. In comparison to the PARKINS' stanchions, SIRMAR's stanchions are less detailed as only one size is available.
The Sirmar sets are simple to assemble. Many parts, such as the gunshield and barrels are exquisitely cast as one complete piece! Just clean up and paint. These sets are relatively inexpensive and provide an excellent basis for super-detailing. The parts as they are accurate in shape and are much better than any of the kit supplied parts.
Head to Head Comparison
Either set will give you a great start to building a detailed Corvette and you cannot go wrong with either. The SIRMAR set is much simpler in design and execution, which is reflected in their price, but that will appeal to those modelers that like to do their own detailing. They are produced very much in the tradition of semi-kits that provide the modeler the basics to work on. PARKINS' sets are considered complete kits that do all of the hard work - at a price. Check out the extensive selection of accompanying photos of parts from both sets. The choice of set is up to you and your modeling style.
EDITOR'S NOTE: A friend of mine who is building these sets kindly sent along the header image of some of his GLS details under construction - RNP